Science Saturday is an event held on the first Saturday of every month from 9am-1pm. Each month is focused on a different theme and each event offers fun and educational hands on activities. Artists, scientists, and experts join us on occasion to provide extra special opportunities to learn and explore. Thanks to generous funding from the Flagstaff Arts Council and the City of Flagstaff BBB Revenues, this event is FREE and open to the public. No need to RSVP, you are welcome to join anytime between 9am-1pm.
Go to the entire 2018 First Saturday Schedule below.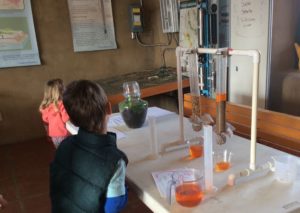 Water, Snow and Ice, January 5th, 9AM-1PM
An event that's all about: WATER! Watershed models, water cycle games, hands on activities, and  the 2018 4th grade Water Ethics Contest posters. The event is held in partnership with the Colorado Plateau Watershed Council and is free and open to all ages.
2018 Calendar (please note themes subject to change)
2018 Schedule

January 6th
The Art and Science of Water
February 3rd
Winter Tales with Special Guest

Ye'ii Diné'é Tachiinii

March 3rd
Renewable Energy
April 7th
Spring Celebration with the Arboretum
May 5th
Color Science
June 2nd
Plant Power
July 7th
It's A Bugs Life with Merriam Powell
August 4th
Rocks Rock! With special guest artist and stone balancer Pieter Schaafsma
September 1st
Colorado River: Fish and Watersheds
October 6th
Fall Harvest Celebration
November 3rd
Bat Festival
December 1st
Sustainable Gift Making
Past Science Saturday Events
Sustainable Holiday Gift Making, December 1st, 9AM-1PM
Bat Festival, November 3rd @ 9AM-1PM
Come celebrate the amazing world of bats. Explore our hands on activities and displays celebrating these unique winged mammals. Make bat decorations, bat games, AZ bat displays, bat research information, test your bat knowledge and more!
Harvest Festival, October 6th @ 9AM-1PM
Come celebrate the end of the growing season with the Friends of the Willow Bend Garden volunteer group. Fun and delicious hands on activities, cooking demos, seed art, a guided walk through the heirloom and the medicinal plant garden and more.
Colorado River: Fish and Watersheds, September 1st @ 9AM-1PM
Come celebrate fish and watersheds and get your hands wet! LIVE fish, interactive watershed models, games, and fun activities! This celebration is held in conjunction with Colorado River Days Flagstaff and is a collaborative effort between Willow Bend Environmental Education Center, Friends of the Rio de Flag, The Sierra Club, Arizona Trail Association, The United States Geological Survey, and Grand Canyon Youth.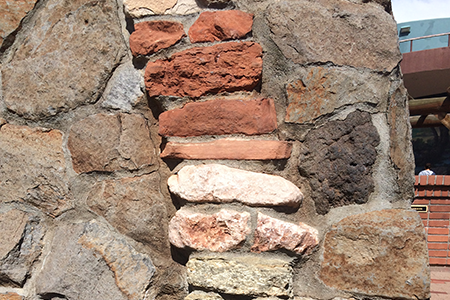 Rocks Rock, August 4th @ 9AM-1PM
Join Willow Bend for a Science Saturday that really rocks! Learn about the region's unique rock formations, paint rocks, dig through our rock collection, and try balance stones with our special guest artist and stone balancer extraordinaire Pieter Schaafsma. Fun hands on activities for all ages.
It's a Bug's Life, July 7th @ 9AM-1PM
Join Willow Bend and NAU Merriam Powell Center for Environmental Research for a creepy crawly Science Saturday.
We will have hundreds of arthropod samples on display, including butterflies and native bees. Design your own super bug, view insets  under a microscope, play the pollinator game, make insect hotels, learn about native plants that support pollinators, and a enjoy a beautiful Pollinators art exhibition.
Plant Power!, June 2nd, 9AM-1PM
What can we make out of plants? Why are they so important to the environment? Find out at this Science Saturday and explore the power of plants through games, hands-on activities, crafts and more!
Color Science, May 5th, 9AM-1PM
Get ready to get colorful at this Science Saturday! Make a rainbow, color focused art, and hands-on experiments that you don't want to miss!
Spring Celebration with the Arboretum at Flagstaff: April 7th, 9AM-1PM
Join Willow Bend and the Arboretum at Flagstaff for a celebration of spring! Hands on activities, planting demonstrations, worm composting, pollinator games, seed art, and information about upcoming spring and summer outdoor events from the Arboretum at Flagstaff.
Renewable Energy: March 3rd, 9AM-1PM
Join Willow Bend, Prometheus Solar, Arizona Wind for Schools and Flagstaff Skylights by JKC Inc for a Science Saturday that is all about renewable energy! Design and build your own wind turbine, play with solar powered devices, create "sun" art, generate your own energy with our "power" bike, explore a Solatube, enjoy delicious solar oven s'mores, and more!
Winter Tales: February 3rd, 9AM-1PM
Join Willow Bend for our monthly Science Saturday program, on Saturday, February 3rd from 9am-1pm for a hands-on and interactive event celebrating winter! Special guest Catherine Esquivel will be sharing traditional Diné winter stories during two sessions, 10:00-10:30AM and 12:00-12:30PM. Make snow art, learn about animal winter adaptations, hands-on experiments and more.  
Cathrine Equivel grew up on the Diné (Navajo) reservation and had the privilege of hearing stories told in the Diné language, especially winter stories. Her maternal grandparents were master story tellers and it is from them that she learned to tell narratives. Mother Earth has many stories to tell. Animals and plants too. Esquivel will share traditional Diné stories, as well as some of her own.