This guest blog post was written by Laura Sherrill, who recently finished her internship at Willow Bend. We would like to thank Laura for her hard work and wish her all the luck in her future endeavors!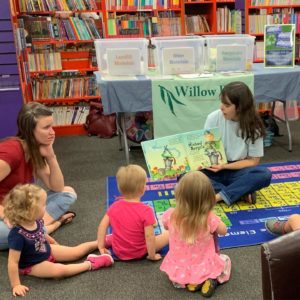 Hello and Happy New Year to all!
My name is Laura Sherrill and I was an intern at Willow Bend during the year of 2019. My time here was largely spent preparing for classroom programs, tabling at events around Flagstaff,  facilitating activities at our monthly Science Saturday events, and blogging about the different programs that Willow Bend undertakes. I truly appreciated the flexibility and variety in work assignments that Willow Bend was able to provide; I never felt stifled or bored here. 
As an intern, I have gained incredibly valuable lessons that will help me as I embark on my professional career journey. First and foremost, working with young children is incredibly difficult. It requires an immense amount of patience, and holding the attention of a group of preschoolers long enough to teach them something is no small feat. I endlessly admire those who have the skills necessary to teach kids, and I am glad I learned early on in life that I do not.  
Additionally, I experienced firsthand that, oftentimes, important education work is undervalued and underfunded. As marked by the RED for ED movement that swept Arizona, education is a sector that has not been invested in enough to provide students and teachers with successful learning environments. However, it was truly amazing to witness the support that exists for educational efforts within the Flagstaff community despite the pressure of budget allocations. 
At Willow Bend's Annual Celebration, people from all different paths came together to celebrate the accomplishments of the past year and raise money to be able to continue to work and reach even more people in the future. It is through grassroots support and funding that Willow Bend is able to succeed; it is a team effort. 
I feel especially lucky to have been a part of an organization that strengthens and unites the Flagstaff community in a common goal: teaching everyone about the natural world. As my time at Willow Bend, and as a student in University, draws to a close, I feel unsure of where my next destination in life will be. However, I am incredibly grateful for the experiences that Willow Bend has allowed me to have, as they will guide me in the coming years. 
Let us all continue to work toward cultivating care for the natural world in the new year.