In an effort to stay true to our mission, and continue serving the community, we are providing environmentally focused programs through social media. We will offer two programs a week on Wednesdays and Fridays at 11am through Facebook Live. You can view these programs for free and find materials and schedules on our Facebook page. Missed it? See past virtual programs at our Willow Bend Virtual Learning Hub
This week's scheduled programs:
Wednesday, May 13th, 11AM – The Three Sisters Garden
Planting crops that complement each other in some way is known as companion planting, and the three sisters is a classic example of plants that enjoy each other's company! Learn fun facts about co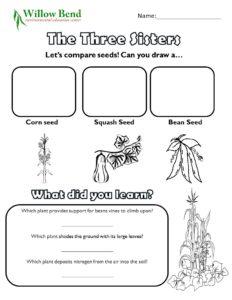 rn, squash, and beans  and why these plants make great companions.
Resources and Activities: 

Friday, May 15th, 11AM–  Life in the Hive
This program is all about the honey bee. Learn about honey bee anatomy, their lifecycle, and what life in the hive is like. Plus, find out what a beekeeper does and what tools they use to check on their hives.
Activities Pages: