I love exploring the Grand Canyon this time of year, the weather is perfect. The Canyon never ceases to amaze me and I am always humbled by its vastness and beauty. There is a special energy in the canyon that always brings peace to my soul and perspective to my mind.  I feel very grateful to have this wondrous place in our backyard. Everyone can enjoy the canyon whether that be a pleasant stroll along the rim trail or a more adventurous hike further deep down inside the canyon.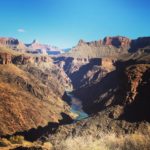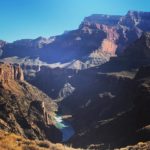 A trail that I only discovered recently is the
Grandview trail
.  You can do a 11 mile lollipop. Its steep at the top but once you get through that first mile then there are lots of smooth sections down to the horseshoe mesa. It gives such delightful views that are different from the mainstream Bright Angel and South Kaibab.  You can then continue past the Horseshoe Mesa and down switchbacks to the Tonto Trail (about 4.5 miles from the top down to the Tonto). Last time I was there I saw a Big Horn Sheep family!  Once at the Tonto, turn left and go Westward for about half mile until you see Cottonwood Creek and a campsite.  Follow the trail back up to Horeshoe Mesa and then back up the Grandview Trail.
Here is a map of the trail. Enjoy