My name is Cree Donovan and I grew up in one of the highest elevation cities in the United States and it was named after a very tall flagpole.
 Fun facts are fun, but what's even better are the trails surrounding this beautiful mountain town with an average of 266 days of sunshine per year.  Yes, that was another fun fact! If you don't want to drive too far from town or just feel like a spending a few hours outside, I wanted to share a favorite short hike of mine.  This hike is a favorite because of the short, intense uphill and view you get as a reward at the end.  If you have lived in Flagpole, I mean Flagstaff, for a while then you probably have heard of Camp Colton.  Right across the dirt road from camp is the start of what is locally known as Booby Hill. If you haven't heard of Camp Colton but want to check out Booby Hill because, well, who wouldn't…then just head on over to Ft. Valley Road, take a right onto dirt road: FS 151.  Drive about 4 miles and just after Camp Colton on your right… you will park on your left. 
Double Fun Fact Alert!  Part of your view will include Mount Humphreys.  It is the highest point in Arizona and towers above Flagstaff at 12,633 feet!  Did you know that the San Francisco Peaks has three summits— Humphreys, Agassiz, and Fremont peaks—on the rim of an eroded extinct volcano? You can ponder all of these fun facts from the comfort and luxury of Booby Hill.  I highly encourage you to hike Booby Hill in the fall while the Aspen leaves and the weather are magical.  Last fun fact!  Altitude and low humidity combine to produce clear air and relatively mild weather conditions year-round.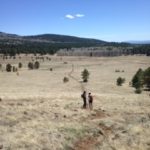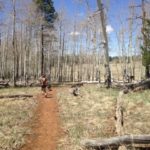 I hope to see you hanging out on Booby Hill, pondering Flagstaff fun facts!  Best Wishes for a fabulous, fun, 2021!  
Post written by board Vice President and Flagstaff teacher Cree Donovan.