Blog post written by Willow Bend intern Laura Sherrill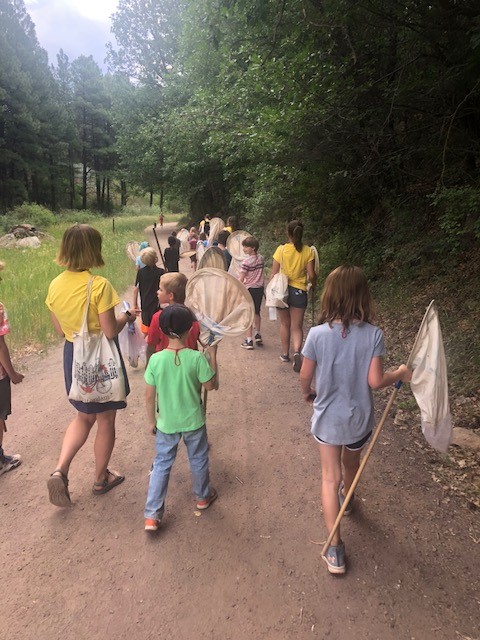 Last week, Northern Arizona University's Summer Bug Camp was held at Willow Bend's center for the fifth consecutive year. This week long camp allows participants aged 6-10 to explore the captivating world of bugs, and introduces them to skills necessary for young entomologists in the making.
A typical day at bug camp is jam-packed with activities. Bright and early at 9 am sharp, we began with some time in which the campers were able to interact with their new cockroach pets provided by the camp. The campers are able to take their cockroaches home at the end of the week, and they were so excited to spend time in the morning studying their new friends.
After spending some up close and personal time with the critters, we headed outside to collect bug samples along the trail bordering Willow Bend. Armed with nets and sunscreen, the campers captured everything from grasshoppers to paper wasps. There was certainly no shortage of bugs on this early morning summer day, and each camper left the field with a ziplock bag full of insects to be studied.
After heading inside for a quick snack, it was time to identify and pin the various bugs that were caught in the field. Paige, the camp's leader, has been involved with NAU's Summer Bug Camp for the past three years and values the camp's ability to introduce campers to scientific skills. In particular, her favorite activity to do with the campers is pinning the bugs that were collected in the field. The campers take their collection of pinned insects home, which serves as a reminder of their entomology experience long after camp has ended.
Through data collecting experience and visually stimulating lectures, NAU's Summer Bug Camp leaves campers with newfound knowledge of the importance of insects within ecosystems, and awareness of how vital biodiversity is. If you know a mini-entomologist that would benefit from this experience, keep an eye out for next years camp. There are two weeklong sessions, one in June and another in July, that will be happening during Summer of 2020 and for many years to come. Until then, check out Willow Bend's upcoming events for adults, children and families alike.