The "Art of Science" is a series of environmentally focused workshops interweaving science and art to illustrate nature's beauty, key environmental concepts, threats, and solutions to pressing issues.
Each workshop will focus on a different theme and medium and be taught by a team of scientists and artists. Workshops will include  a scientific presentation, a short outdoor field trip, creating an art piece with one-on-one instruction, and prepping for an exhibition, showcasing the workshop's theme, process, and focus.
Support for this program is provided through generous funding from the Arts and Sciences Project Grant. Participation scholarships available. Please contact Melissa or call (928) 779-1745 to apply.
Stone Wall Building, June 26th-28th (all day)
Come join Alan Ash for a dry stone workshop at Willow Bend, and learn how to correctly build a dry stone wall (a wall built without the use of mortar, concrete or any bonding agent other than natural stone) using traditional techniques that have stood the test of time. Learn to use traditional stone working tools as well as modern power tools. Alan is a certified instructor for the Dry Stone Walling Association of Great Britain but also has skills learned from stonemasons that practice techniques from other parts of the world. The class is suitable for a wide range of people, from professionals to homeowners, teenagers to folks in their golden years. Methods will be learned hands-on by building a 90-foot retaining wall for the Hummingbird Garden at Willow Bend Environmental Education Center.
Presenter: Alan Ash has a real love of building with stone and 20 years of teaching hands-on masonry courses! He's had his own company Ash Stone Masonry for 35 years. With masonry experience prior to that ranging from working on a concrete crew building a large dam to restoring masonry on 18th and 19th century log cabins. He is one of the few stonemasons who is proficient in various aspects of the trade, dry stone masonry, historical masonry restoration and preservation as well as modern masonry techniques.
Medium: Dry Stone
Time: 9:00AM-4:00PM on June 26-28th
Cost: Limited spots! $350 for three days (payment via credit card or check will be due June 8th).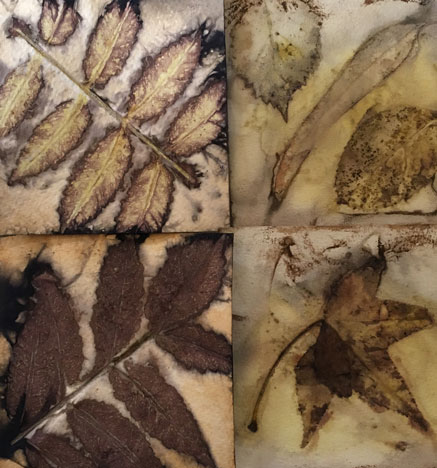 Eco-Printing Workshop, June 30, 9:30AM - 12:30PM
This workshop will focus on how to print on fabric and paper using the natural dyes found in leaves. Fabric artist Sharon Richards will introduce participants to the art of using the natural chemistry of the plants to create beautiful prints celebrating the leaf's structure and shape.
The morning will begin with an introduction to techniques and a first dying session with fabric and paper. Students will use leaves that are provided and that have a high amount of tannin. Then, while those projects steam, the class will join Susan Lamb for a botany talk and a walk through the Willow Bend gardens and natural areas watching for interesting leaf shapes and plant growth. After the nature tour, participants open their bundles to view their wonderful artwork! A second opportunity to create new leaf prints will follow as well as a Q&A session with the artist. Sharon Richards will bring samples of her work, including cards, scarves, and garments.
Medium: leaves, paper, fabric.
All Materials will be provided. Feel free to bring fresh maple, oak or sumac leaves from your backyard if you would like to experiment with them.
Participants of all skill levels welcome. No experience necessary.
Time: 9:30AM-12:30PM
Cost: $45/participant or $35/Willow Bend members
Presenters: Sharon Richards is a well-known, award winning Arizona artist who divides her time between Flagstaff and Phoenix. She taught for many years in the Flagstaff Unified Schools and now makes hand-dyed and quilted fabric art full-time. She has shown her work widely and been included in many juried shows such as the National Crafts Exhibit at the Mesa Arts Center. Sharon often combines her original fabric designs with hand-forged iron elements made by Cathi Borthwick, and their collaborative work can be seen at Arizona Handmade gallery in Flagstaff. She has also served for many years as an organizer and juror for It's Elemental fine crafts exhibit at Coconino Center for the Arts. Her beautiful scarves and wall-hangings can be seen this year on the Art35N studio tour and through the summer at the Coconino Center for the Arts.
Susan Lamb is a Flagstaff-based writer of science and nature books for national parks and regional publishers. She is a long-time member of the Arizona Native Plant Society with a particular interest in how plants function, especially the ways they make and use chemicals. She is coordinator of Friends of Willow Bend Gardens, a volunteer group revitalizing the gardens around the environmental center. During the coming rainy season, they plan to introduce new plantings that emphasize the colors, scents, shapes, and tastes of local native plants.
Birds of a Feather, March 10th 8:30am-3:30pm
Art workshop will focus on birds. Participants will learn about avian natural history, endangered and threatened local species,  field  identification, and other birding skills from Rocky Mountain Research Station Conservation Education Coordinator Brenda Strohmeyer. After the presentation and a birding field trip, participants will learn several techniques for drawing birds with local artist and long time birder Zack Zdinak.
Medium: Pencils (provided). Please bring your own sketch pad (we will have plenty of extras).
Time: 8:30am-3:30pm (1 hour lunch break on your own).
Cost: $45/participant or $35/Willow Bend Members 
Presenters:  Zack Zdinak has been a local Flagstaff artist, naturalist and birder since 1985. He started out working as a wildlife biologist and interpreter with the National Parks, National Forests and US Fish and Wildlife Service in Utah and Arizona. In 1998 he founded Life Drawing & Education, a company offering wildlife art, graphic design services and environmental education programing for parks, nature centers, museums, schools, and publishers. He served on the Northern Arizona Audubon Society board and has led multiple art workshops, classes and birding adventures. You can view a sample of Zack's work at www.lifedraw.com. 
Brenda Strohmeyer is a Biological Science Technician and Conservation Education (CE) Coordinator for the Wildlife Program at the Rocky Mountain Research Station.  She has been with the Station for over 20 years supervising and assisting with on-going field research studies for the Wildlife Program and serving as CE coordinator for the Station.  Brenda loves researching animals to find out more about them and also loves to inform youth and the community of the importance of the wildlife species studied at the Research Station.  Brenda is involved in the community through Flagstaff Festival of Science, as Board Secretary - Camp Colton - Station Conservation Education Council - In School Programs and Educational Kits – The Coconino County Fair - Every Kid in a Park- Middle School Mentors - Flagstaff Community STEM - Flagstaff Science Alliance and more.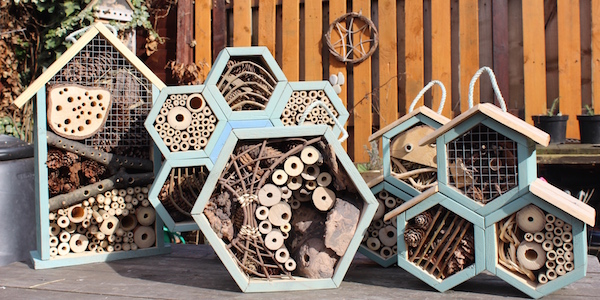 The Art of Pollinators, April 28th 9am-1pm
Art workshop will focus on pollinators. Participants will learn about the fascinating world of pollinators, including an introduction to the many (hundreds) of native bee species, threats, and ways we can assist their survival from entomologist and PhD candidate Lindsie McCabe. After the presentation and a short walk around the gardens highlighting ideal locations for bee homes, participants will create unique "bee hotels" with mixed media artist Travis Lurato.
Medium: Wood, natural materials
Time: 9am-1pm.
Cost: $45/participant or $35/Willow Bend Members
Presenters:  Travis Iurato graduated with a Bachelor in Fine Arts from the Cooper Union for the Advancement of Science and Art in New York City, and attended the University of Barcelona School of Art in Spain. Originally from New York, most recently, Iurato co-founded the New Age Drinks Contemporary Art Gallery in Rimrock where he curated a handful of contemporary art projects. Iurato mostly works in mixed media, painting and sculpture. Lindsie McCabe is a third year PhD student in the department of Biological Science at Northern Arizona University. Lindsie's research includes understanding how insect pollinator communities change along an elevation gradient and how these communities might be affected by climate change. Lindsie graduated with her Bachelors of Science in 2012 from Old Dominion University and received her Masters of Science in 2015 for Northern Arizona University. Lindsie has always been passionate about bees from a young age and loves to share her passion with the community.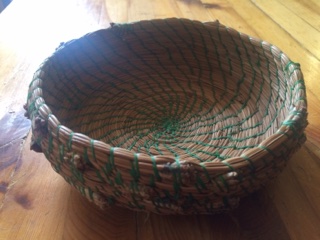 POSTPONED - Basket Weaving, May 19th 10am-1pm
****THIS WORKSHOP HAS BEEN POSTPONED. PLEASE CHECK BACK FOR RESCHEDULED DATE****
Art workshop will focus on applying and understanding Traditional Ecological Knowledge (Indigenous Science) and making Pine Needle Baskets. Participants will learn about Traditional Ecological Knowledge from Chad Hamill, NAU's Vice President for Native American Initiatives.  The presentation will be followed by a short walk around the pines at Willow Bend. After the walk participants will learn and make their own pine needle baskets with artist Vanessa (Chili) Chicharello.
Medium: Pine needles, needles, colored thread, sap (provided).
Time: 10:00am-1pm (snacks will be provided).
Cost: $45/participant or $35/Willow Bend Members
Presenters: Vanessa "Chili" Chicharello is Diné (Navajo), born into the Sleep Rock People Clan and the Towering House People Clan. Her maternal grandfathers clan is the Black Sheep People Clan and her paternal grandfathers clan is the Red Running Into Water Clan. She was born and raised on the Navajo Nation outside of Gallup, NM. She graduated with a Biology degree from NAU in 2011. She learned how to make Pine Needle baskets from an elder (Marina Vasquez) while attending NAU. She later perfected her own style of pine needle baskets using different colored threads and sizes of baskets. She enjoys the serenity and comfort of making baskets which she has sold and also given as gifts. Vanessa loves being outdoors, living an active lifestyle by running, practicing capoeira, hiking, among other activities.
Chad Hamill serves at the Vice President of Native American Initiatives at NAU. His scholarship is focused on song traditions of the Interior Northwest, including those carried by his Spokane ancestors. Hamill served as Chair of the Department of Applied Indigenous Studies at NAU and as Chair of the Indigenous Music Section of the Society for Ethnomusicology. He sits on the editorial board of the Native American Indigenous Studies Journal and the Steering Committee of the Smithsonian's Center for Folklife and Cultural Heritage. He also serves as Vice President and Treasurer of the Spokane Language House, a 501c3 that contributes to the sustainability of the Spokane language.