Erupting Earth
Take a look at different types of volcanoes with an emphasis on northern Arizona and the San Francisco Peaks Volcanic Field. Suggested follow-up field trip: "Sunset Crater Volcano National Monument" with the National Park Service.
For the Birds
Students are introduced to bird watching and identification before sharpening their listening skills by identifying local bird calls!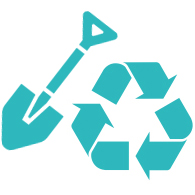 Living within your Climate: From the Sinagua to Now.

Sustainable living isn't a new idea! Learn about sustainability through local examples.  We will study traditional techniques used by the Sinagua at Wupatki, Walnut Canyon, and Sunset Crater before looking at Willow Bend as a modern example of sustainable design and living.   Suggested follow-up field trip: Wupatki or Walnut Canyon National Monuments with the National Park Service.

Midnight Hunters: Owls
Through hands-on activities and props, students will learn the importance of these hunters as well as their unique body adaptations for catching prey. Be aware of potential Native American cultural conflicts.
Skulls
By studying bone structure and facial patterns, students will become skull detectives!  The challenge is to identify various local mammal skulls. Be aware of  cultural conflicts.
Starry Skies

Students will understand how the rotation and revolution of the earth affect the stars we see throughout the year. Students will also make their own Flagstaff star chart!

Trash and the Three R's
Students learn how to reduce waste, reuse materials, and recycle in Flagstaff. Supported by the City of Flagstaff. Suggested follow-up field trip: "Recycling Center Tour."