Eagle Workshop, Saturday, February 27th 10:00-11:00AM Via Zoom (link provided after registration)
*Registration will close on Friday 2/26 at 5pm*
Join Liberty Wildlife, Willow Bend, and Arizona Watchable Wildlife Experience for an exciting live and virtual workshop all about eagles! Meet a bald and golden eagle live on Zoom, and have exclusive access to wildlife biologists to answer all of your eagle questions. This workshop will also feature experts in the field with tips on eagle watching in the wild, as well as a citizen science eagle nest watcher. Registration will automatically enter participants into a raffle to win prizes. This virtual event is a fundraiser for wildlife rehabilitation and environmental education programs.
$10/household or free for Willow Bend and Liberty Wildlife members.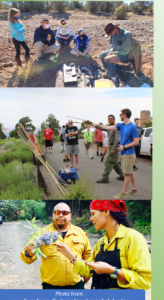 Science Saturday, Archaeology Month - March 6th 10:30-11:30AM Via Facebook Live
We are excited to continue our Science Saturday events virtually (until in person programs can resume). Join us on Saturday, March 6th at 10:30AM on our
Facebook page
for a LIVE interactive program. March is Archaeology Month and we are excited to host
• Willow Bend board member and retired archeologist Neil Weintraub
• Jason Nez, an archeologist with Grand Canyon National Park
• Dr. John Whittaker, Grinnell College Professor of Anthropology
• Noni Nez-Lyndon, Kaibab National Forest Tribal Liaison, and
• Jeanne Stevens, Coconino National Forest Tribal Liaison.
Join us for fun hands on activities, stories, and demonstrations.
The event is open and appropriate for all ages (not just children). The event will be recorded and shared on our website.