In an effort to stay true to our mission, and continue serving the community, we will begin providing environmentally focused programs through social media.
We will offer two programs a week on Wednesdays and Fridays at 11am through Facebook Live. You can view these programs for free and find materials and schedules on our FB page. In addition we will post the schedules and activities each Monday on this blog. 
Program Schedule:

Wednesday March 25th, 11am: Recycling. What can and can't be recycled in Flagstaff and other answers to your recycling questions. Link to downloadable recycling coloring sheet:Recycling Coloring Page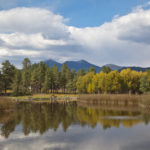 Friday March 27th, 11am: Habitat. What makes up a habitat? Learn about some Flagstaff animals and their habitat needs and sing the habitat song with us.