Executive  Director, Moran Henn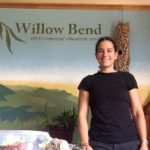 Moran joined Willow Bend in 2015. She holds a B.S in Conservation Biology and Outdoor Recreation Tourism from the University of Idaho and an M.S in Environmental Sciences and Policy from NAU. She has worked for governmental and state agencies, managed non-profit organizations, taught as a graduate assistant at NAU, and has much experience in community organizing. Moran has two adventurous little girls and together they love exploring, hiking, and horse riding.
Education Director, Cassandra Roberts 
Cassandra
has been teaching for Willow Bend since 2009 and joined the full-time staff in 2011. Cassandra has taught elementary school in New Zealand and Japan and holds a B.Bus (Management) and M.A. (Experiential Education). Cassandra loves living in Flagstaff because the prevalent sunshine is so different from the typical weather in her native New Zealand.
Educator, Val Grimmett
Val was a teacher in the Flagstaff Unified School District for many years, specializing in K-6th education. She attended NAU, where she received a B.S. in Elementary Education; she is passionate about teaching science to children. She knows our programs well since she has been working with Willow Bend as a teacher for years. Now retired from FUSD, Val works part time at Willow Bend, teaching many of our field trips, in-class programs, and Center events.
Sorry, we currently don't have any staff openings.