Executive  Director, Moran Henn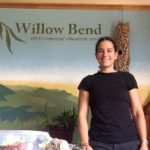 Moran joined Willow Bend in 2015. She holds a B.S in Conservation Biology and Outdoor Recreation Tourism from the University of Idaho and an M.S in Environmental Sciences and Policy from NAU. She has worked for governmental and state agencies, managed non-profit organizations, taught as a graduate assistant at NAU, and has much experience in community organizing. Moran has two adventurous little girls and together they love exploring, hiking, and horse riding.
Education Director, Cassandra Roberts 
Cassandra
has been teaching for Willow Bend since 2009 and joined the full-time staff in 2011. Cassandra has taught elementary school in New Zealand and Japan and holds a B.Bus (Management) and M.A. (Experiential Education). Cassandra loves living in Flagstaff because the prevalent sunshine is so different from the typical weather in her native New Zealand.
Education And Outreach Coordinator, Melissa Eckstrom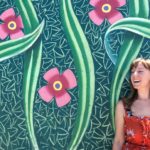 Melissa joined the Willow Bend team in August 2017. She holds a B.A in Sustainable Agriculture from Sterling College in Craftsbury Common, VT. She served in AmeriCorps National Civilian Community Corps in the American Midwest, as well as the United States Peace Corps in Jamaica. She is passionate about environmental education and has shared her love of the natural world while creating programming for schools and camps, managing gardens, and playing songs about worms on her ukulele. Melissa loves to ride her bicycle, bake bread, and draw silly comics in her sketchbook.
Garden Coordinator (Volunteer), Susan Lamb
Susan has been coordinating the all-volunteer restoration of the habitat gardens since 2017. Since that time, volunteers from a wide range of backgrounds have contributed their time, skills, and talent to creating and maintaining gardens that exemplify local flora and ecosystems as well as provide an oasis of tranquility for the community. Having lived and gardened in the Flagstaff area since 1987, Susan is fascinated by our native flora as they emerge, bloom, and set seed. As a former ranger-naturalist at the Grand Canyon, she loves interpreting the gardens and their plants, insects, reptiles, birds, and mammals.
Job Openings

We don't currently have any open paid positions. We are always looking for interns and volunteers!