Adult Workshops are specifically designed for participants ages 12 and up. They are led by experts in their field that donate their time and skills to make these events meaningful and memorable.
Workshops are typically held once a month covering a different focus each time. Most workshops require early registration and have an associated cost, with a discount for Willow Bend members. Past workshops have included Wildlife Tracking, Beekeeping, Essential Oils, Salve Making and more. Sign-up in advance by clicking on the registration button in event description. Payment is taken through our online form.
Eagle Celebration: Fully Fledged Community Presentation, DATE CHANGE: April 8th, 1:00-2:00PM
1:00-2:00PM – Fully Fledged, Community Presentation:  Learn about the incredible bald eagle from biologists and view live eagles from Liberty Wildlife, up close and in-person! Presentation is open to all ages, though this session is not specifically designed for young children. Thank you to Tim Macy Photography for sponsoring this event, allowing Liberty Wildlife, based out of Phoenix, to come visit us here in Flagstaff!
Cost for the Fully Fledged program:
 $10/participant

 $35/family (2 adults + 3 kids)

 or FREE for Willow Bend Members*.
*Willow Bend members receive discounted or free admissions to our events and workshops. A Family Membership ( up to 2 adults + 4 kids)  is $50.  An Individual Membership (one person) is $35. You can sign up for a membership when you continue to the next page and register for the workshop, or by clicking here.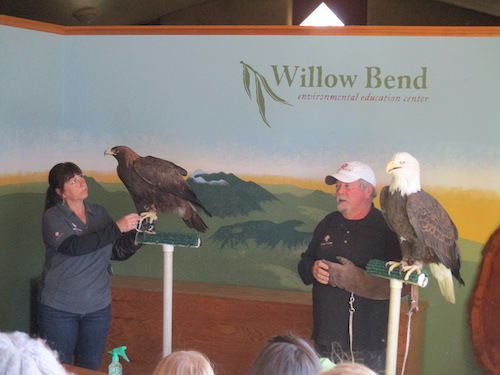 Intro to Pruning, April 29th 10AM-12PM
Pruning can be overwhelming and is often misunderstood. Join Tom Hanecak*, an ISA Certified Arborist and Municipal Specialist, for an Intro to Pruning workshop. Tom will provide an overview of successful pruning on trees and shrubs that are commonly found in our landscapes in Northern Arizona and cover the following topics:
Purpose of Pruning
The Science of Pruning
Timing
Tools
Techniques
Pruning Shrubs
Pruning Trees
Other applications
Questions and hands-on experiences
Cost: $15 non-Willow Bend members, $10 Willow Bend members. Limited spots, sign-up required.
*Tom Hanecak is an ISA Certified Arborist and Municipal Specialist. He spent 10 years working in commercial landscape maintenance in Connecticut prior to moving to Flagstaff. Tom has been with Coconino County for 16 years and currently serves as the Director of Facilities Management. His first 7 years with Coconino County, Tom served as the Natural Resources Maintenance Supervisor for the Parks and Recreation Department where he was responsible for all things related to developed landscape at the parks. Tom also spent 2 years in Gabon, Africa as an Environmental Education Volunteer with the Peace Corps
Photos of Past Adult Workshops