I want to share my grandmother's sourdough English muffin recipe, since there is an overnight step, its a perfect activity for the holidays.
Ingredients:
1/2 cup of sourdough starter, 2 cups of flour plus 1 Tbsp. 1 cup of milk, 1 Tblsp. Honey, 1/2 Tbsp baking soda, 1/2 tsp salt, 1 cup of corn meal.
Here it is step by step: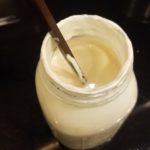 First, you'll need to get some sourdough starter. There are many instructions on-line about starting your own or possibly source from a friend. This starter was from my grandmother and is about 45 years old. It has been maintained and passed around in my family.
The night before you want to serve the muffins (best when fresh), mix 2 cups flour, 1 cup milk, 1/2 cup starter and one Tblsp. Honey (Note: I used local honey from Willow Bend's very own Melissa Eckstrom!)
Mix everything together
Cover the dough bowl with tea towel and set in a warm place overnight.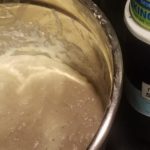 In the morning, dough should have grown and have small bubbles. Add 1/2 Tbsp baking soda, 1/2 tsp salt, and just enough flour (~Tbsp) so it's not sticky.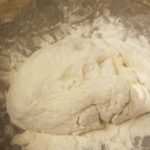 Gently mix, just enough to incorporate the salt, soda, and flour.
Roll out on a floured surface approx. 5/8 inch thick.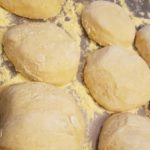 Use a cookie cutter or glass to cut approx. 2 inch rounds. Spread corn meal on a cookie sheet and gently set the rounds leaving some space for expansion. Cover with a tea towel and let rise in a warm place for 2 hours. Pictured here muffins have already risen.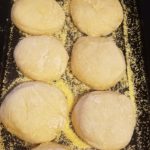 Heat a griddle or cast iron skillet on medium heat. Sprinkle corn meal on the griddle and cook rounds. Rotate periodically for even cooking. If the corn meal starts getting brown, turn down heat.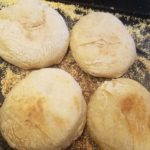 When lightly browned, flip and cook the other side.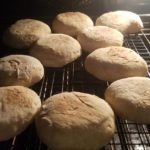 Finish in a warm oven at 220 for about 10 minutes. This will help stabilize the doughy center.
Fork split and toast or broil until golden brown.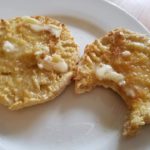 Final product, fork split and toasted. Enjoy with a little butter and or your favorite preserve.
If you make a donation $50 and over on December 24th or 25th on our website Ariel will deliver some of her grandmother's 45 year old sourdough* starter as a token of our appreciation (email moran@willowbendcenter.org with a screen shot of your donation, your address, and contact information if you want a sourdough delivery).
Recipe and pictures shared by Willow Bend President Ariel Leonard.
(while supplies last, first come first serve)