January is over already?!  Willow Bend had a very eventful first month of 2018 and we would love to share some of our highlights!
SCHOOL PROGRAMS
This January we visited (or hosted a field trip for) 11 different schools in Flagstaff and provided environmental education for over 500 students with fun and interactive programs focusing on recycling, food waste, habitats and more!
FOOD WASTE WARRIORS
Willow Bend has been working with 6th graders from Alpine Leadership Academy on a pilot food waste program supported by the City of Flagstaff Sustainability Section. This month, students made their concluding presentations about what they learned, what behavior changes they made, and showed us their new compost station that was a direct result of the project!
This project has paved the way for another food waste project supported by the City of Flagstaff Sustainability Section! Fourth and Fifth Graders at Marshall Elementary  are correctly collecting data on food that gets wasted during school lunch and looking for creative ways to reduce that waste. Their food waste warrior training started this month and will conclude in early February, so updates to come!
HAVE TO HAVE A HABITAT!

Elementary school students are prepping for a Frances Short Pond field trip in the spring by learning about habitats of various insects, birds, plants, fish and mammals in and around the pond! The lesson includes a song on habitat that means Melissa bringing her ukulele to school! The song was a hit!
COMMUNITY PROGRAMS
Adult Workshop: Wildlife Tracking
Lynne Nemeth, Executive Director of The Arboretum at Flagstaff facilitated a great Adult Workshop this month covering the basics of wildlife tracking. We found coyote, raccoon, skunk and plenty of dog tracks on a hike and learned other ways to spot wildlife activity while out in nature!
Science Saturday: The Art and Science of Water
Our Science Saturday this month was a blast! The event was held in partnership with the Colorado Plateau Watershed Council and and we had watershed models, water cycle games, and the 2017 4th grade Water Ethics Contest posters. Thank you to all the families who made it out and to FALA Grand Canyon Youth students for volunteering their time to help out (see them below celebrating water through song)!
Annual Eagle Celebration!
Our Annual Eagle Celebration was an amazing event. Thanks to ALL the event partners: Arizona Game and Fish Flagstaff Region, Arizona Watchable Wildlife Experience and Liberty Wildlife. Big shout out to everyone who helped organize, the biologists and field trip leaders who lead a morning field trip,  the presenters, and of course a BIG big thank you to Joe and Jan from Liberty Wildlife for bringing up Aurora the bald eagle and Anasazi the golden eagle, and sharing important information about eagle conservation. Also, thank you to everyone who attended and supported the event. Program fees go directly towards eagle conservation and rehabilitation and to future wildlife focused programming.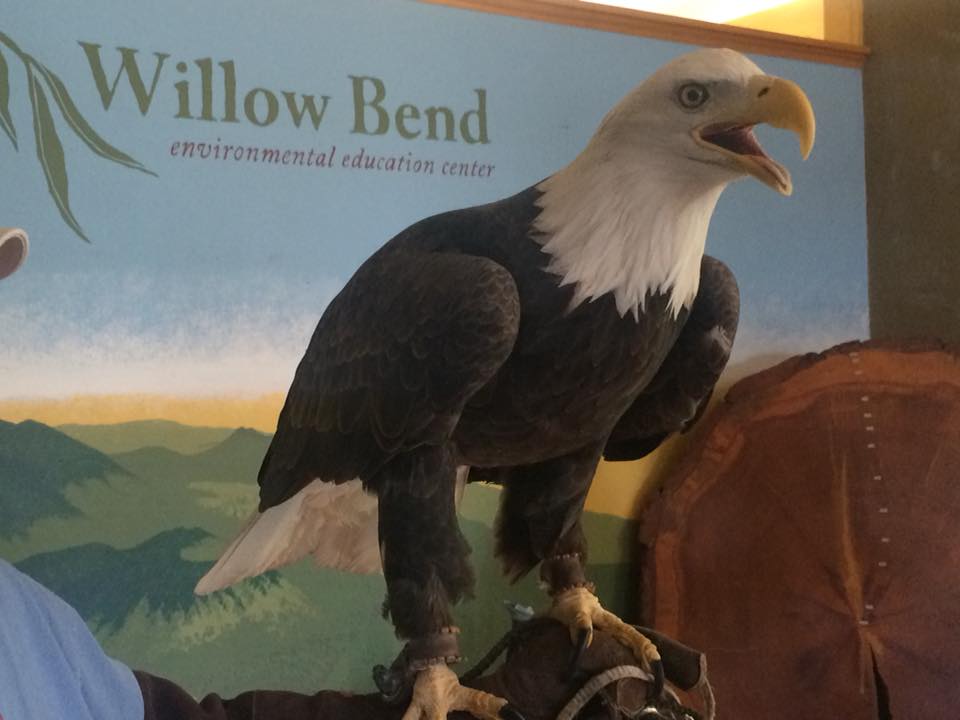 A huge thank you from Willow Bend to everyone who made January a success, and we are so excited for February!