I have been hiking with llamas and camels in Picture Canyon for over 20 years. Its amazing to think that camels came through Flagstaff in 1853 with Lieutenant Edward Beale building the first federal highway in the Southwest. Between 1857 to 1860 Lieutenant Beale, a crew of 100 men, and 22 camels cleared a 10-foot wide track and pushed the rocks to the side to allow wagons to travel on the track. Beale's "Wagon Trail" came through the Flagstaff area.
Camels are very effective at walking in rugged terrain, carrying heavy loads, and of course adjusting to dry conditions. However, they were not positively accepted by locals as they scared horses and mules, and looked odd to those who were not used to working with these animals.
On December 26th my two camels and I, along with Willow Bend Director Moran Henn and her two horse, will try trace a small section of Lieutenant Beale's trail. We will judge, if indeed they navigate easily through this terrain, and what effect they have on horses.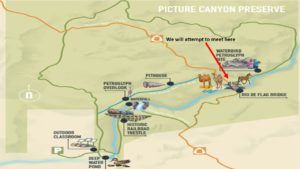 Join us at Picture Canyon on the morning after Christmas and judge for yourselves how these beasts do in the Southwestern landscape. We will be attempting to cross the bridge across the Rio de Flag late morning. Exact time will depend on the cooperation of all involved, especially the furry ones. We are hoping for 11am-12pm timeframe. Snap a picture, post on social media and tag Willow Bend (or email it to moran@willowbendcenter.org), and enter to win a fun gift for participating in our Holiday Adventure Series.
Directions to Trailhead: From downtown Flagstaff, travel west on Route 66 toward the Flagstaff Mall. Turn right on Route 66 and left on El Paso Flagstaff Road. The trailhead is approximately ½ mile down the road on the right side. Once at the trailhead, hike approximately 1.5 miles along the Don Weaver trail till you get to the bridge. For more information about Picture Canyon and to download the hiking guide visit the City's website. 
Post written by board member Eric Souders and Executive Director Moran Henn