What better to enjoy during a dry winter than the variety of fun that can be found at the Fort Tuthill Bike Park.  Located at Fort Tuthill County Park just south of town, it's a quick drive or ride from most locations in Flagstaff.  It's chock full of different tracks, features, trails, and jumps for a variety of skill levels.  It was created as a partnership between Flagstaff Biking Organization (FBO) and the County Parks & Recreation Department in 2013, and has gradually grown to its current size.  There's something for just about anyone with any level of mountain biking experience.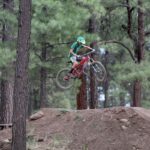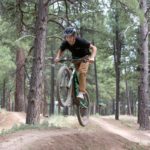 Photo credit Coconino County Parks and Rec and AZ Daily Sun.
Designed by the International Mountain Biking Association (IMBA), some of the work has been completed by a professional skills park group, FlowRide Concepts, with other portions completed by American Conservation Experience, and some of the skills area features fabricated by in-house talented County Parks & Recreation staff.
So, even though we're getting some much-needed snow right now, get your bike dialed in, pack some snacks, grab the family and/or friends, and head to Fort Tuthill when the weather gets a bit better to enjoy the Bike Park.  While you are there, take the bikes on a few of the great trails Fort Tuthill has to offer.
Post written by Tom Hanecak, board member and Assistant Director Coconino County Facilities Management Department.