Willow Bend would like to welcome our three awesome new interns to the team! They have already assisted at our Science Saturday events, joined us in the classroom, and helped at our most recent Adult Workshop.
Mackenzie Myhra
Mackenzie Myhra is currently a junior at NAU. She is double majoring in Environmental Studies and Criminal Justice and minoring in Psychology. She enjoys drawing, painting, and music. MacKenzie stated, "Sustainability is my passion and I'm excited that I get the chance to intern with Willow Bend to help educate others about environmental issues and get involved with the community".
Haley Lemos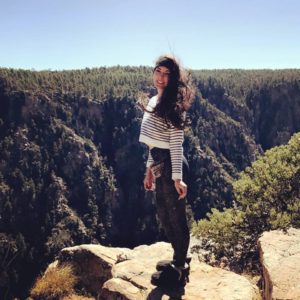 Haley graduated from Mesa Community College as a Presidential Honors Scholar and Phi Theta Kapa honors student with her Associates in Science. Currently, she is a senior at Northern Arizona University working towards her B.A in Environmental Sciences with an emphasis in Biology. At Northern Arizona University, she also mentors minority freshmen working towards degrees in STEM programs through the Louis Stokes Alliance for Minority Participation program. Haley has a passion for the world of nature and all of the beautiful wonders the Earth holds dearly. In her free time, she enjoys hiking to local creeks, basking in the Arizona sun, cruising around Flagstaff on her long board and helping out at the fun events Willow Bend offers the community.
Cameron Rood
Cameron (Cam)  is nearing completion of a BS in Environmental Science from Northern Arizona University in Flagstaff, Arizona. His interests vary from environmental/outdoor education, music production/sound engineering, to political science and community organizing. He is always looking for ways to empower others through a sustainability lens. Cameron enjoys snowboarding, preparing Asian cuisine, and making all sorts of music.
If you come across our interns at one of our many community events or tabling, give them a warm welcome! We are excited to have them on the Willow Bend team!