October was a busy month here at Willow Bend Environmental Center! Here are some of our October highlights:
                                                                                                                                   Science Saturday/Celebrating Bats! 
We kicked off the month with Science Saturday, celebrating our favorite flying mammals – BATS! Families visited the center and played bat jeopardy, created bat masks, and learned more about these mosquito-eating, fruit-pollinating, and overall important critters for ecosystems across the world! We had about 100 visitors of all ages at this event.
In addition to our Science Saturday on bats, we also celebrated BAT WEEK (October 25th-31st) by going to Kindergarten and 2nd grade classrooms at various schools to teach students about what bats eat, and how they aren't so different from humans. "This is the first time I have EVER seen a bat!" exclaimed a very excited 2nd grader as we shared our taxidermied bats. By the end of the classes we watched as students who at the beginning of the lesson found bats to be scary, instead shouting, "BATS ARE AWESOME!"
Frances Short Pond Dedication 
Have you visited the fantastic outdoor classroom at Francis Short Pond yet? The outdoor classroom was designed by the city's Community Design and Redevelopment staff and built by volunteers from the Flagstaff Rotary Club, with assistance from the city's Parks Department and Willow Bend. Now students will have a beautiful place with a view of the Peaks and the pond to learn about watersheds and wildlife. Read more about the history of the project here.
Make a Difference Day 2017!
Wow! Make a Difference Day 2017 was inspiring and truly showed the collaborative, hard-working nature of the residents of Flagstaff! Some of the completed projects included picking up trash along the Rio de Flag, removing excess vegetation from Willow Bend's small pond, removing invasive species in the gardens, and improving the FUTS connector trail.  We cannot express enough gratitude about how happy we were to see so many great projects be completed during just one morning! A BIG thanks to the City of Flagstaff, Coconino County Parks, Natural Channel Design, and everyone who came out to make a difference!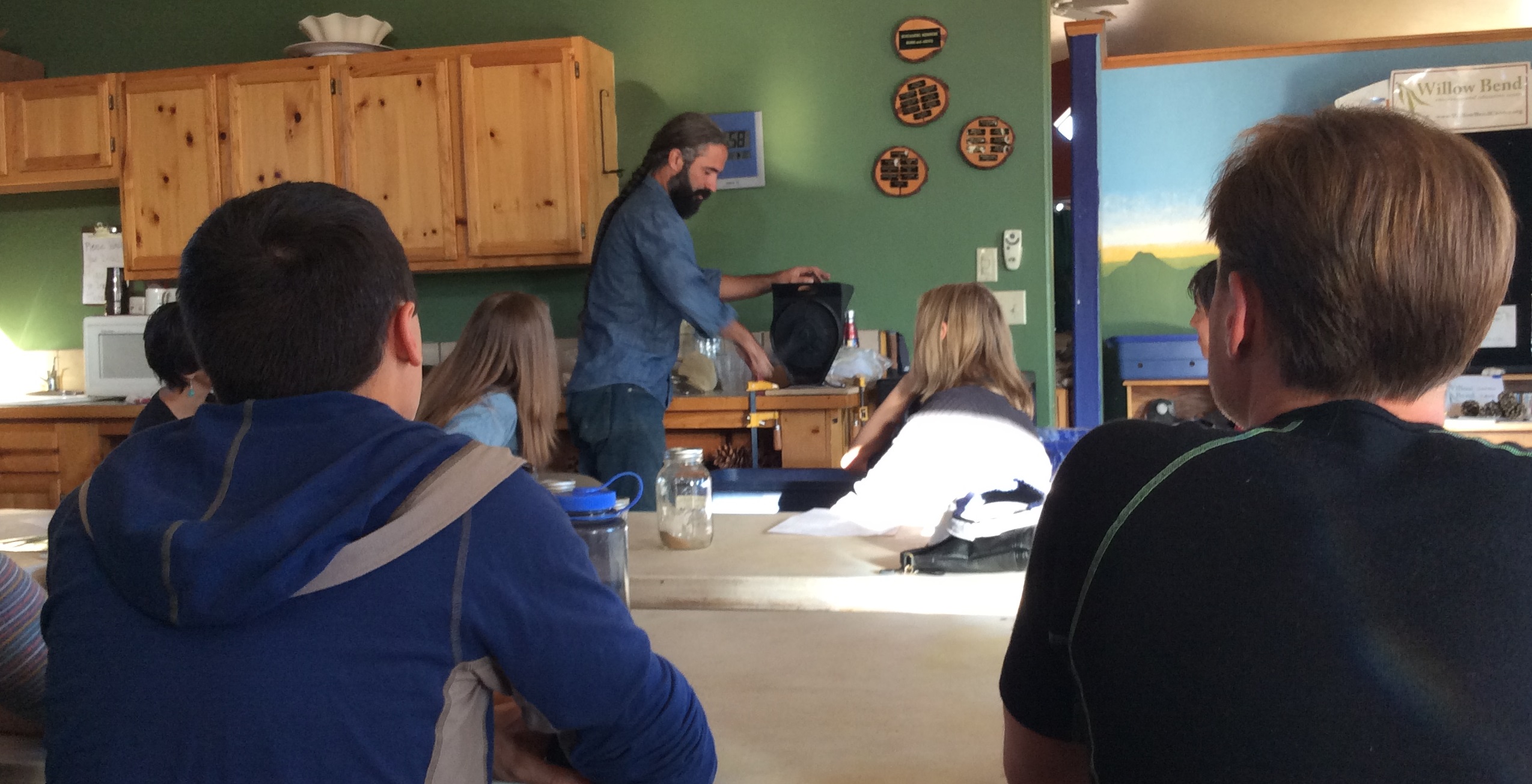 Acorn Processing Adult WorkshopWe had an exciting acorn processing adult workshop this month with herbalist, forager, and author John Slattery. John worked participants through the process of gathering acorns, drying them, and then preparing them into a flour. At the end of the workshop, he shared some delicious acorn flour bread that was enjoyed by all. John gave a thorough history of humans' connection to the oak tree and the acorn that was educational for all.
Field trips Galore!
Willow Bend was pleased to get over 165 kids outside for some experiential education this month with various trips, including a bug themed field trip at Willow Bend Center, a walk with 3rd grade students learning about Picture Canyon, and downtown geology tours. We also had programming at Frances Short Pond for 4th graders where they learned about water quality, watersheds, and birds! We also hosted multiple groups at the Recycling Center where they learned how recycled is sorted to be shipped and processed into new products.
Picture Canyon Natural and Cultural Preserve Community Tour
We had our last community guided tour at Picture Canyon, and did a whole blog post on it here!
Willow Bend would like to thank all our partners, volunteers, and everyone in-between that made these awesome events possible! November has lots more exciting things in store for us—check out our calendar for more upcoming events!