Willow Bend would like to thank all the amazing partners, sponsors, donors, supporters, volunteers, students, teachers, families, community members, and visitors for making this an A-M-A-Z-I-N-G year!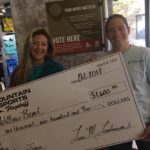 Willow Bend tracks programs based on our fiscal year (July 1st-June 30th) but we release our year-end report in January (it's coming soon!). In the mean time, here is a quick glimpse into our achievements this year: over 10,000 students and a total of 19,000 people reached through environmental education programs!
Looking forward to another great year, 2018 we are excited and ready! If you would like to help us start the New Year strong please consider making a DONATION. Your donation is tax deductible, and until Dec 31st, all donations over $50 receive a FREE limited edition Willow Bend T-shirt.
HAPPY NEAT YEAR from the Willow Bend team
2017 Program Report:
Willow Bend Report

June 2016-July 2017

Program/Event
# Classes/Events
People Reached
Classroom Programs
258
6,536
Field Trips
138
3,625
Family Science, Adult Education, Community Events, and Other Programs
119
9,140
Willow Bend Drop-In Visitors
–
231
TOTAL
515
19,532